Custom Printed Yoga Mats
Branded Yoga Mats
Printed on extra thick 1/4" deluxe mat material
Yoga Mat Size: 24" x 72"
Durable and Waterproof
Full 4 Color Printing
Fast Turnaround
Affordable!
We print directly on deluxe 1/4" yoga mats with our UV printers to give you a colorful, custom yoga mat with your logo on it.
What's really cool is that you get full four color printing, and we can do it from your favorite graphic design program. You can have logos, photos, maps, or just about any image printed on your choice of 8 different mat colors. For large orders of custom printed yoga mats, special colors are available.
Pricing: Varies with size of printing and quantity of custom printed yoga mats. Lead time is 5 working days. Call us!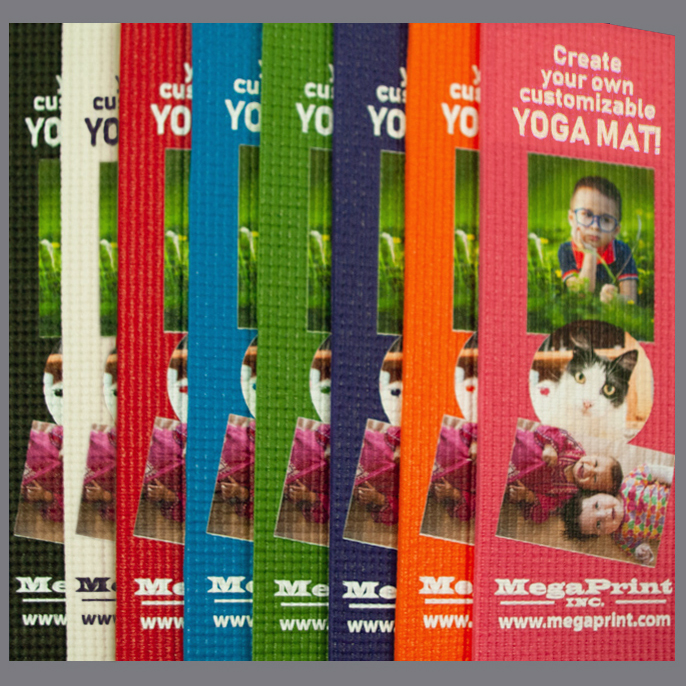 Available Yoga Mat Colors
To Order: Our online ordering system is not set up to do branded yoga mats, so just give us a call on 603-536-2900 to get started.
Minimum Order: We have a minimum order of 10 yoga mats.
If you're an animal lover, also check out our partner Down Dog Yoga Mats for yoga mats printed with photos of your pets!
Prices effective Dec 6, 2018 and subject to change without notice.