Trade Show Booth Graphics and Displays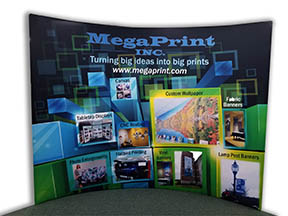 Looking for brilliant graphics that attract customers to your booth? You've come to the right place! We give you bright graphics and crisp photos that demand attention. Our designers have produced effective trade show graphics for thousands of trade show booths.
We can create a portable trade show booth for you, design and print graphics for your existing display, or provide accessories like banner stands and easel signs.
Let us put our know-how to work for you!
"I worked with the team at Mega Print for my trade show graphics. This was a great experience. They were on time with proofs, communication and final delivery of my graphics. I highly recommend this company."

Brian McGrath,
Vertical Market Solution
Lovettsville, VA
---
Laminated Prints with VELCRO® brand hooks bring versatility to your booth:
Use crystal laminated prints when you want to attach your graphics with VELCRO® brand hooks to the carpet face of a pop-up booth. Our premium crystal laminate is easy to roll up in the cannister with the rest of the booth. The pebble finish surface cuts glare from bright show lighting while allowing the colors to come through brilliantly.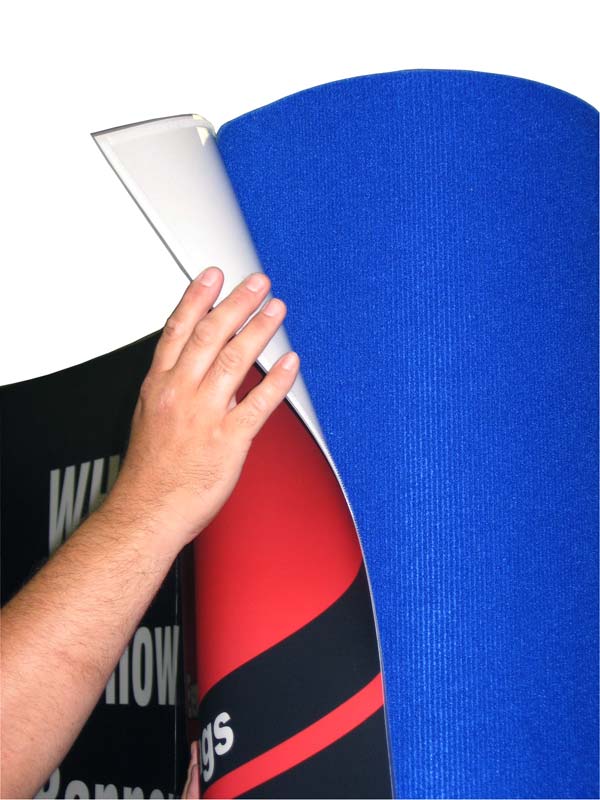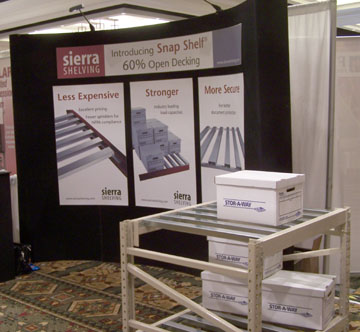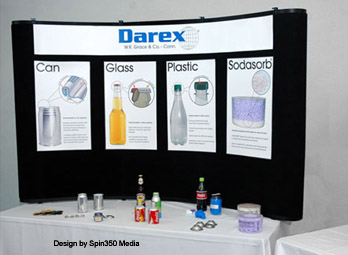 Trade show booth graphics typically include a header graphic with your logo and tag line, and several supporting graphics will showcase your products and services emphasizing the features that differentiate your offering.
---
Backdrop Banners Bring Visibility to Your Booth: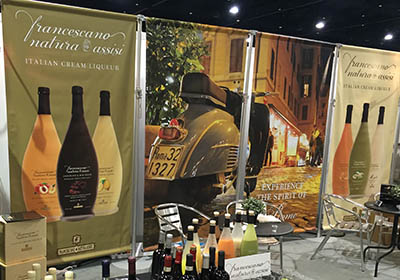 You can put together a very attractive booth on a budget by making a vinyl banner that hangs at the back of your booth. Rent a table to go in front, and you have an attractive booth that will draw in new customers.
High impact graphics will attract prospects. We typically use our matte vinyl to minimize reflections and increase visibility. We put grommets across the top, and we'll give you S hooks to go over the top of the curtain pole. You can set a booth up in minutes, and a banner like the one shown here can be done for about $335.
---
Banner Stands Bring Variety to your Booth:
Surround your booth with graphics rich banner stands to highlight various products or special offers. We stock three versions of retractable banner stands. They are easy to transport and set up, and you can put three of them side by side as a complete trade show backdrop. You see a lot of them at trade shows these days, and it's no wonder since they are so easy to use!

---
Table Top Displays for Local Shows:
We offer two tabletop displays for trade show booths for those who need a smaller setup. They fold up into a portfolio size case that fits easily into a car's trunk. We see a lot of them being used for smaller local shows, and many companies buy one for each of their sales people.
---
Is this your first show?
Review our Trade Show 101 Guide: How to Create a Striking Display for your Trade Show Booth .
It provides excellent advice about doing shows affordably and effectively.
Click to see Examples of Trade Show Booth & Expo Displays.
Prices effective Jan 1, 2017 and subject to change without notice.
VELCRO® is a registered trademark of Velcro BVBA. Used with permission.