Wall Fabric
Removable wallpaper and displays
• Soft look of fabric
• No glare
• Easy to install and remove
• Sticks to most surfaces
Wall Fabric is digital printing on a light fabric with "sticky note" adhesive on the back. It will stick to surfaces like painted drywall and wood, as well as smoother surfaces like metal and glass. Smaller pieces can be taken down and re-applied.
Use it for easily removed wall murals, in stores as temporary or movable posters, as window signage, and even as backlit displays. Want movable directional signage? It can do that too. Want to wrap a column at a trade show with vibrant graphics? It's your choice for that.
We digital print using our UV inks, so the images are light stable, even in store windows. The inks are not waterproof, however. This product is for indoor use only. Use our Wallboard Vinyl for applications in the weather, and Adhesive Vinyl for permanent installations.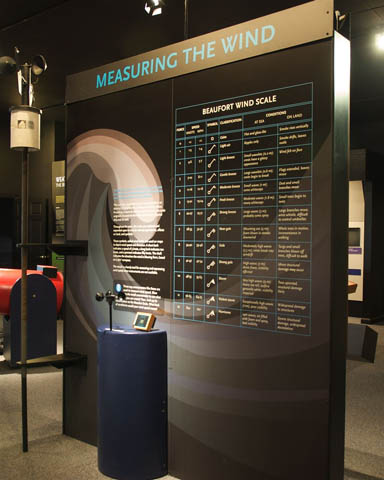 At the right, the Mount Washington Observatory used Wall Fabric to create educational displays. They also used it as a covering for painted concrete columns at the summit visitors center.
Below, our customer used Wall Fabric to cover the walls of a trade show booth and give it the look of a kitchen at water's edge. One great advantage is that it will stick to textured surfaces like painted wallboard, wood, and painted concrete.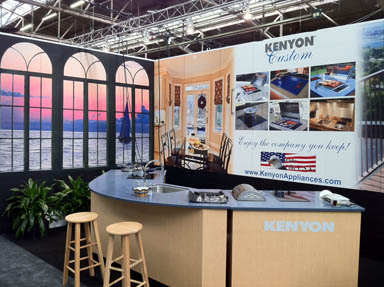 The MegaPrint Inc. booth at the Neocon trade show, using Wall Fabric as temporary wallpaper on the booth walls provided at the Merchandise Mart.