Foamcore Edge Trim
Protective Edge Trim for Foamcore Prints
If you plan to handle your foamcore print a lot, we highly recommend you order it with a protective Edge Trim. This avoids the edges becoming battered with handling, keeping your foamcore print looking fresh and new. Edge trim also gives your print the look of a thin frame, which can save on framing costs.
Edge Trim comes in black, white, silver, and clear. About 90% of what we sell is black.
Pricing is $2 per linear foot of perimeter of your foamcore print.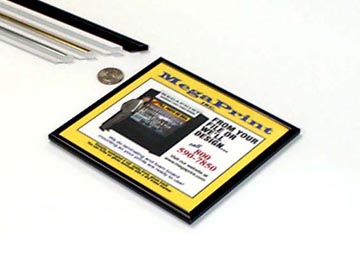 Cost for common sizes:
22x28" $17
24x36" $20
30x40" $25
How to Order: Order your foamcore print at Large Format Ordering
Check the box to add edge trim and pick a color
Prices effective Jan 1, 2017 and subject to change without notice.